Blog
Award Winners! Quality in Care Anticoagulation Awards 2014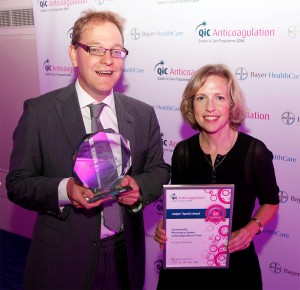 Dermot and Alison were thrilled to be named as winner of the Judges Special Awards at the Quality in Care Anticoagulation Awards 2014 this week. Cloyne Pharmacy's groundbreaking and innovative Anticoagulation Clinic was commended to for services to patients in the East Cork area.
(From the Quality in Care website)
Community Pharmacy-based Anticoagulation Clinic
awarded to Cloyne Pharmacy
This is Ireland's first and, so far, only community pharmacy-based anticoagulation clinic. Based in Cloyne, the clinic was borne out of a need for patients to have their INR monitored locally rather than face a commute of 45 minutes to the nearest hospital-based clinic. The team has worked with local hospitals and is able to provide care that is more cost-effective than that provided by the secondary care setting. Recently there has been much interest in the community pharmacy-based service from healthcare bodies in Ireland such as The Pharmacy Regulator, The Health Services Executive, The Pharmaceutical Society of Northern Ireland as well as the Centre for Pharmacoeconomics in Dublin.
Judges comment:
"This project is providing a commendable service to patients and has been transformational for rural Ireland and demonstrates outstanding commitment to patients."
Cloyne Pharmacy is the first pharmacy in Ireland to run a Warfarin (Anti-coagulation) Clinic in which we take care of patients who take Warfarin and require blood tests on a regular basis.   If you would like more information on our Warfarin Clinic please feel free to contact our team on 021 4652543.