Welcome to Cloyne CarePlus Pharmacy...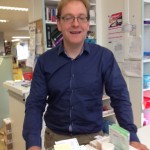 We are a local community pharmacy who strives to give our customers excellent service. Our customers are valued and we are happy to assist them to solve any issues with medicines and we stock cost efficient brands.
Cloyne CarePlus Pharmacy is the first pharmacy in Ireland to have set up a Warfarin (Anticoagulation) Clinic. For further information on this clinic please see our Services section on Warfarin.
For customers convenience there is a free car park round the corner from Cloyne CarePlus Pharmacy.
Opening Hours now returned to normal:
Monday – Friday 9.30am-6.00pm
Saturday 9.30am-1.15pm