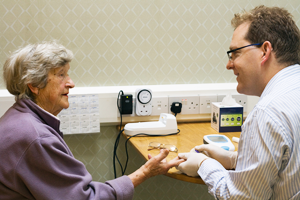 Cloyne Pharmacy is the first pharmacy in Ireland to have set up a Warfarin (Anti-coagulation) Clinic. If you are on Warfarin and need to get bloods taken on a regular basis you can register with the pharmacy and we will look after everything for you.
The Warfarin Clinic is located in the Pharmacy's consultation room and is appointment based. The results are received in just two minutes. Not only are the results instant but any adjustments required to the weekly Warfarin dose can be made on the spot. This reduces the amount of journeys to Cork needed.
Cloyne Pharmacy undertook intensive training in order to provide this valuable service and has been validated by the Haematology Consultants in Cork University Hospital.
The machine used to perform the analysis has external checks every 2-3 months as well as daily controls to ensure correct readings. All results are stored in confidential database file which enables previous results to be retrieved easily if required.
The clinic is open to everyone, for further information please contact Dermot on 021 4652543 who will be happy to discuss the registration process with you.
For customers convenience there is a free car park round the corner from Cloyne Pharmacy.
Cloyne Pharmacy are delighted to announce that we are amongst finalists for the Quality in Care Programme Anticoagulation Awards 2014.