Blog
Cloyne Pharmacy Wins Innovation & Service Development Award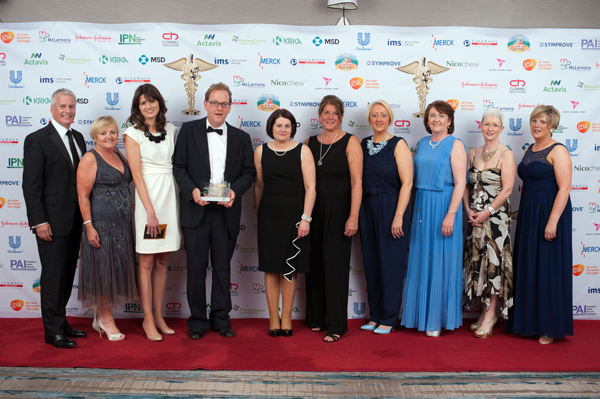 The Anticoagulation Clinic at Cloyne Pharmacy is the first community based service of its kind in Ireland. Cloyne Pharmacy has broken new ground by demonstrating that community pharmacists can – and should be allowed to – provide services beyond those of traditional dispensing.
The service was set up after an elderly patient complained to pharmacist Dermot Twomey of the difficulties and stress that he experienced whilst traveling 45 minutes each way to attend a hospital-based clinic in Cork city for his condition.
Dermot researched the subject, underwent training under the supervision of Haematologist Dr Susan O'Shea and Cork University Hospital and followed that up with a Pharmacy Skillnet Course run by Dr Stephen Byrne at University College Cork.
In the short time that Dermot's service has been available, 90 patients have availed of the service and not one patient has so far been referred to hospital due to inadequate control of their medication.
The service has been continuously appraised and modified since its inception and has always received top marks.
It has also undergone auditing by two final year research projects by UCC. Both found patient satisfaction to be 100% with the second demonstrating that service in a community pharmacy setting was more cost effective measured from both a patient and clinical point of view.
The results achieved, measured by Time in Therapeutic Range, were also better when compared to hospital clinics. TTR is a measure of anticoagulation control and ideally should be >60% over various time ranges. Cloyne Pharmacy has maintained standard far higher than this, which rather confirms that those being monitored have been very well managed in the pharmacy setting.
Cloyne Pharmacy provides the anticoagulation control service six days a week and has occasionally undertaken home visits for patients with mobility issues. Last September, the pharmacy received the Judges' Special Award at the Quality in Care Anticoagulation Awards in London – the only pharmacy finalist and the only finalist from Ireland.
Interest has been show in the project from many professional quarters and Dermot has assisted Professor Byrne in running further courses on the subject, as well as presenting at Irish and international medical conferences.
At the request of Professor Michael Barry at the Centre for Pharmacoeconomics at St James Hospital, Dublin, Dermot Twomey has also put together a proposal as to how the service could be scaled up to run in more community pharmacies across Ireland.
In his view, anticoagulation is just one of a range of services that should be available through appropriately trained community pharmacies.
The collaboration between Dermot Twomey and all these eminent healthcare experts only underlines the fact that pharmacists are in a position to help decrease the costs of healthcare in Ireland whilst, at the same time, gaining an increase in confidence in their abilities from their patients.
On behalf of his team, Dermot Twomey said winning this award was the pinnacle of all the dedication they have placed in ensuring this sector of the community have access to enhanced care provision.
"Winning this award is fantastic regognition for the inspired work and professionalism of my team and the tremendous support of our collaborators and of course the community we serve. It will certainly help to raise the profile of what we are trying to achieve for our anticoagulant patients and will spur us on to achieve even greater things. The prestige of these Awards is recognised widely in the sector and is wonderful recognition."